It's important to know the theory behind credit spreads—but theory alone won't put money in your pocket. The key to making money with spreads is to actually trade them—successfully—and that's what the Winning Secret Trading Letter is all about.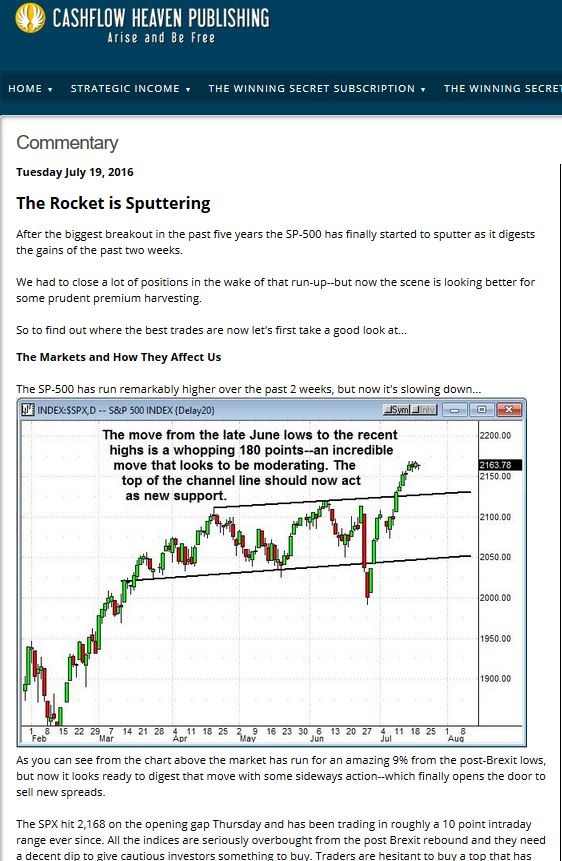 The Service provides two high-probability trades every Tuesday night with plenty of detail so you'll not only know what to buy and sell—you'll know the reasons why.
When the update is ready Tuesday evening you'll receive an email to log into the site where you'll see commentary on which way the market is headed, including a chart of the SP-500 so you'll have the technical picture of the trend as well as the fundamentals driving the market. Since a 'rising tide lifts all boats' (and a receding tide lowers them) having a good handle on which way the market is heading is important.
Part of that analysis examines the current volatility of the market—critical information because volatility determines the time value of the options we're selling—particularly on the SP-500.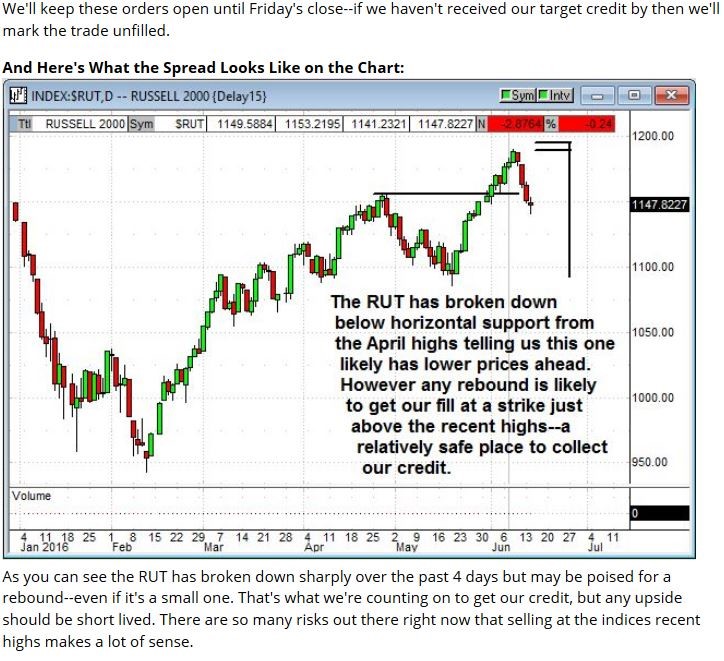 In addition to the market overview, you'll get detailed commentary on each trade including the trend of the underlying asset, what events may be coming up to drive its price, the exact strike and expiration to buy and sell–and a chart so you can see at a glance what each spread looks like.
This level of detail is critical to be able to place your trades with confidence. And getting the thinking behind each trade is important as well—so you can learn while you earn. The trade you see described to the right made an impressive 30% in just 7 days. That's exceptional, but not unheard of.
We typically shoot for 25% in about 10 days but sometimes we can do substantially better by selling both call spreads and put spreads on the same underlying and for the same expiration—in other words , 'Condor'.
In addition to the detailed commentary, if something changes on the trade once we've made it—the underlying moves too close to our sold strike—the market explodes one way or the other—or a sudden event requires action—you'll get an immediate email letting you know what to do.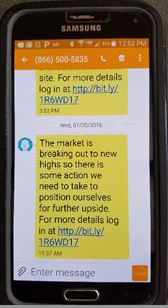 And if you have a phone that receives text messages, you can request to be on our text alert service so you'll get a text on your phone when an update has been sent—even if you are outside the USA. That way you'll know in an instant if there is action to be taken.
That said most of our trades are designed to leave alone once they're placed–and that's usually what happens as the goal of these trades is a worthless expiration allowing us to keep all the premium. But it's nice to know you've got an expert watching your trades constantly during market hours with instructions at the ready should an action become necessary.
The bottom line is you've got an experienced full-time partner working for you to maximize your cashflow and minimize your risk when you subscribe to the Winning Secret trading letter—and you get it all at a price that's a fraction of the profits from just one trade. When you consider that you get an average of 8 high-probability trades per month, it's easy to see the value.
On top of that, we've got a gal on our team whose sole job is to walk you through our website and show you the most important features of your new subscription. Your friendly and informative 20 minute 1-on-1 Orientation session is designed to help get you started with your best foot forward.
Plus unlike other services that try and rope you in for a year or more—you can try the Winning Secret for just a month at a time if you like—and if you want to stay on longer (and we're betting you will) we'll give you a substantial discount on a quarterly or yearly subscription.
Add it all up and a subscription makes a lot of sense—especially if you like the idea of market-generated cashflow that's generally passive. The sooner you get started the sooner you'll get to enjoy the feeling of fresh options premium hitting your account—a feeling we predict you'll love getting used to!